Michael A. Gilkey, Inc. is a full service design-build landscape architecture studio in Sarasota, Florida. Established in 1981, the firm is steeped in a culture of passion for thoughtful design, and a belief in appropriate, sustainable horticultural practices. Alongside the community's finest architects, builders, and our discerning clientele, we create exterior spaces that are unique translations of our clients' visions. We work with skilled artisans and tradesmen, our experienced landscape contracting team, and our professional maintenance technicians to ensure a seamless continuity of each concept as it evolves, through every phase of the design process and beyond.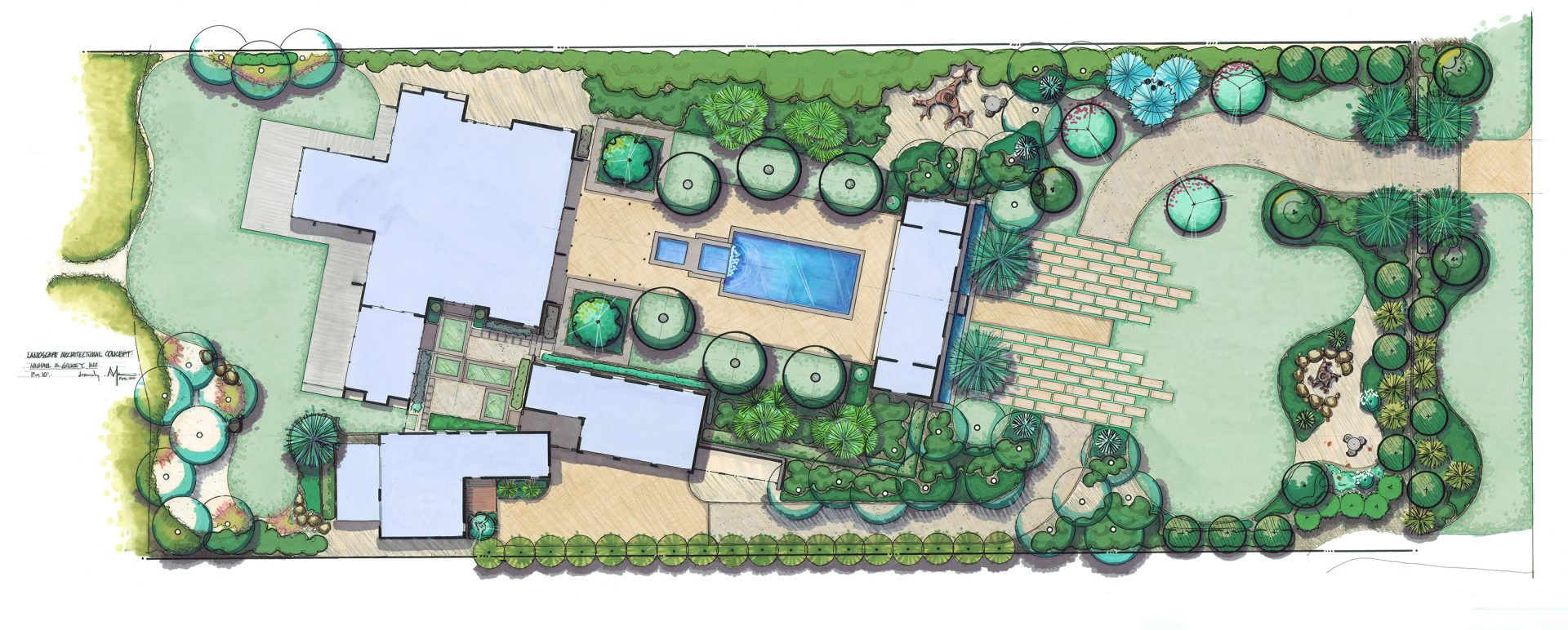 Process
1 INVENTORY | We begin with two critical events: a personal meeting between our landscape architects and our clients, and a comprehensive site analysis. We refer back to these events during every phase of design thereafter. This is the framework for our design. 
2 CONCEPT | We generate a unique concept for each landscape informed by the opportunities and constraints of the project. We may illustrate these ideas through sketches, diagrams, or informal plans. These are the broad strokes, and create the core of each design.
3 DESIGN DEVELOPMENT | Our design concept is then transformed into a set of buildable landscape documents, complete with installation specifications. Every design decision made will echo the concept, down to the finest detail. 
4 MATERIALS | We work with each client to create a language of materials that complements unique flavor of each project. We insist on securing the finest plant material in the state. We also design and specify hardscapes, pools, water features, sculpture, structures and more.
5 COORDINATION | We provide complete exterior contracting services for our clients, including irrigation, hardscaping, earthwork, site amenities, lighting, pools, fences and walls, arborist services and more. Our subcontractors are all owner-operated firms, just like we are.
6 IMPLEMENTATION | In addition to the proper, careful installation of all landscape elements, our services may include permitting, preservation, removal or relocation of existing vegetation, site preparation, grading, drainage and earthwork.
7 EVALUATION | We strive to exceed expectations beyond installation. Following installation, one of our landscape architects will walk through your new gardens with you, ensuring your understanding about the material and the maintenance it will require.
8 MAINTENANCE | Our team of maintenance professionals includes experienced technicians, managers, pesticide applicators, nurserymen and horticulturalists. We appreciate the opportunity to continue caring for your landscape as it evolves. 
A Strong Foundation
Michael A. Gilkey, Sr. (Mic) graduated from the University of Florida's Landscape Architecture program in 1967. After serving in the Air Force, Mic began practicing landscape architecture in Jacksonville, Florida. He and his wife Kathy had their first child, Michael, in 1974. The following year, Mic became licensed and registered as a landscape architect. Their daughter Gana was born, and in 1981 the family of four began an at-home landscape architecture studio in Jacksonville. In 1982 the Gilkeys moved to Sarasota to expand their growing design-build firm. Mic and Kathy quickly developed a reputation in Sarasota for honesty, integrity, quality, and service. 
Michael A. Gilkey, Jr. remembers fondly learning the names of the plants Mic used at a very early age. As time progressed, Michael would go to job sites with Mic, and work summers with his installation crew. In high school he became a draftsman for his father's company, learning the basic principles of design, and beginning to appreciate Mic's craftsmanship.
The Next Chapter
Michael followed in his father's footsteps and studied landscape architecture at the University of Florida. After graduating in 1999 with high honors, Michael began practicing design at the family firm. He became a licensed and registered landscape architect in 2004. Today, he is President of the company and oversees all operations. 
Mic passed away in February 2012. Every decision Michael makes is influenced by his father's teaching, and he is honored to perpetuate the legacy of a brilliant, kind, and generous man. Michael has taken the company in an exciting direction. He has gathered a team of talented designers that share his vision, and launched a maintenance division to ensure that the design intent is upheld as the landscape evolves. And he works hand in hand with his contracting crew to continue his father's insistence that each plant is installed with a personal touch. (The leader of that contracting crew is the son-in-law of Mic's first foreman. We're a second generation family business, inside and out.)